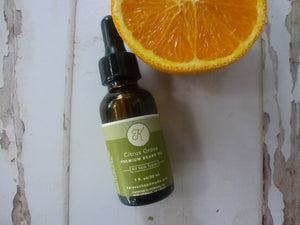 Our all natural, plant based beard oil is designed to soften and condition the beard when used on a regular basis.  Made with five premium non-comedogenic carrier oils, and available in two great essential oil blends.  For all skin types.  Presented in a brown glass bottle with a black dropper closure.
Ingredients: Citrus Grove 
Moroccan Argan Oil, Jojoba Oil, Rosehip Seed Oil, Evening Primrose Oil, and Grapeseed Oil.  Scented with Bergamot, Tea Tree, Sweet Orange, and Litsea Cubeba Essential Oils.
Directions for use:  Shake bottle slightly prior to use.  Use the dropper to place a small amount of oil onto the palm of the hand.  Rub hands together and smooth onto beard, and enjoy the fresh natural scent.
*For best results keep bottle out of direct sunlight, and please use within 6 months.  Do not introduce water or other substances into the beard oil bottle, this could cause contamination of product.
Important Note: Safe to use daily, however always check ingredient list for potential allergens prior to use.  A skin patch test is recommended prior to applying to entire beard area; discontinue use if any redness, itching, or other discomfort occurs.
Net weight: 1 fluid ounce