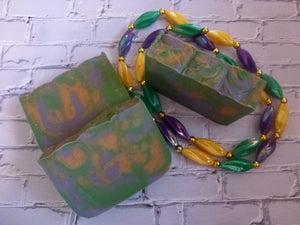 A richly scented and colored whole body soap for all.  Ingredients: saponified olive oil, coconut oil, almond oil, cocoa butter, and castor oil.  Scented with litsea cubeba, cedarwood, and lemongrass essential oils. Ground turmeric and skin safe colorants.  Zero waste!
We are invoking the lively, colorful spirit of Mardi Gras in New Orleans with this soap.  In 2021 we've sadly had to forgo and postpone most of the usual festivities.  We think a brisk wash with this traditionally green, purple, and yellow-gold swirled soap will help you hop out of that shower and mambo to the kitchen a little more cheerfully.  Lather up, and breathe in those fresh, bright citrusy essential oils. Les bon temp rouler, all year long!
*Since all of our products are handmade in small batches, there will be slight variations in design and color from batch to batch, and bar to bar.