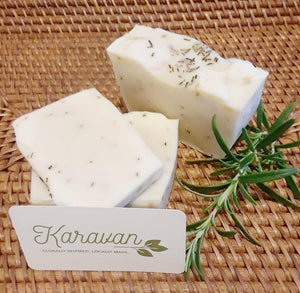 A hand and body bar featuring an herbal and refreshing scent added to a creamy, all natural bar.  Moderate exfoliation provided from dried Rosemary.  Rustic looking bar soap without added colorants, and it's totally vegan. Zero waste!
Ingredients: saponified olive oil and coconut oil, rosemary essential oil, and dried rosemary.  5 ounces
Note: Not recommended as a facial bar as bits of herbs could get in the eyes.
*Since all of our products are handmade in small batches, there will be slight variations in design and color from batch to batch, and bar to bar.