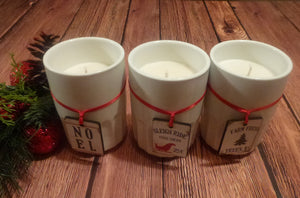 Our natural soy wax hand poured into an elegant white ceramic vessel.  An upcycled  restaurant supply tumbler from a local New Orleans restaurant group.
Now available in three traditional holiday scents:
Christmas Tree:  the scent of freshly cut pine, notes of Douglas fir, cedarwood, and earthy patchouli
Gingerbread House:  a sweet base note of vanilla and Tonka bean, with mid notes of cinnamon sticks, nutmeg, graham crackers; and top notes of cherry and bergamot
Frankincense and Myrrh:  two of the gifts of the Magi; a balsamic middle eastern blend of aromatic resins and woods
All fragrances are free of parabens and phthalates.  6.5 ounces of wax. 
*Note:  Removeable mini ornament tags may vary in style.  After wax is spent, vessel may be cleaned and used as a mini vase, pencil cup, toothbrush holder, etc.