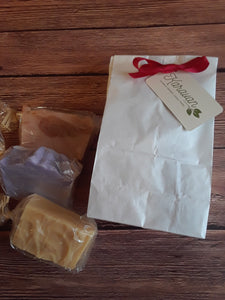 One whole pound of soap at a greatly reduced price!  The original price is $27.
If you like mysteries and surprises, then these bags are just for you!  Hopefully, you'll find some soap you love at a huge discount.  You will get 3 varieties of bar soaps to try, enough to share a bar with a friend. 
Sometimes we have perfectly good natural handmade soap that we choose not to sell at full price.  It could be that the bars are smaller than we like, or that the scent or original color has faded.  Other times we have miscellaneous odds and ends left over from a limited edition. 
Each bar comes individually wrapped in our usual biodegradable cellulose bag, labeled with the ingredients, then placed inside a recyclable white paper bag.  Totally supports a plastic-free, green lifestyle.

Net weight 16 ounces or more.  Handmade in New Orleans, Louisiana
*Per our usual policies, due to the personal care nature of soap, it is not eligible for returns or exchanges.