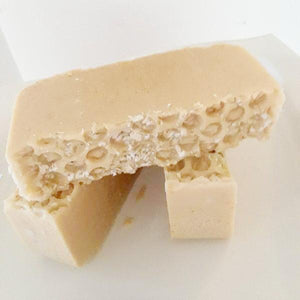 A gentle, soothing, all natural, skin loving face and body soap made with fresh goat's milk and finely ground oatmeal. No added colors or scent, zero waste.
Ingredients: fresh goat's milk, saponified shea butter, sunflower oil, coconut oil, and olive oil; oatmeal, and local honey.  5 ounces
*Since all of our products are handmade in small batches, there will be slight variations in design and color from batch to batch, and bar to bar.